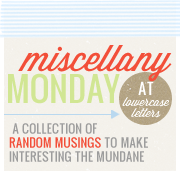 Does anything really seem
miscellaneous
after Friday's tragedy?
For me, no.
As a Mother of children who are 5 and 6, and as a teacher, it was especially horrible.
I went to pick up B from school on Friday and sobbed silently in the carline. I wore sunglasses on a cloudy day to protect my 1st grader from my anguish and tears. I cannot describe the interesting mix of emotions I experienced as I saw his class come running happily out of the school.
It was painful and precious.
I am a middle school teacher, although, I am working in a different job and not teaching children right now. I have been in the classroom when we went on "lockdown" because a gunman was loose in the area. I covered the classroom windows and doors, huddled the kids in the back of the room, and made up silly excuses to explain what was going on, and why helicopters were flying so low over our campus. I didn't want them to worry or be afraid. As a teacher, it's just what you do.
It has been hard not to cry, these past few days. We have kept the news off when the boys were around. I want to protect their innocence as long as I can. I don't want them to know about all of the horrible things in this world. I don't want them to know the real fear in my heart when I pray for God's hedge of protection to surround their school and classroom, as I have prayed even before this tragedy occured.
There are many things I don't understand, but thankfully, there is one thing I do know. I know those babies and educators stepped right into Glory beyond our imagination. I know that in my heart. As I posted on facebook Sunday, our church band played and sang the words
"Hallelujah to the God who holds my right hand"
and all I could see was those babies reaching up to Jesus as he held their hand and helped them up to Heaven.
But what about those who are left behind? They are left here, with the horrible emptiness, and little siblings who don't understand, and gifts wrapped under the tree, and a calendar of dates to face without their loved one. But they will have to carry on. And my heart hurts. It. HURTS. And while I know He will hold their hand and walk with them, I know it won't be easy. Ever again. What amazing Faith it must take to cling to the Anchor in the midst of that storm. What courage it will take for them to continue on.
Life is fleeting. Time is precious.
And that is all I can think about today, on this not-so-miscellaneous rainy day Monday in Georgia.