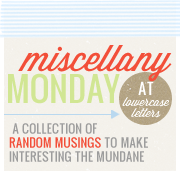 Before the boys came, I read 5 or 6 magazines a week. Seriously. I also regularly read novels, self-help books, and newspapers. I even did the daily crosswords! It seems hysterical when I think about that now, as I don't have time to read anything these days.

And my brain is way too scattered to do a crossword!
Even with no extra time, a few years ago I recommitted to reading the Bible. I do my best to keep a Bible Study going at all times. Now before you go thinking I am perfect (NOT!), la
st week, I finally finished Beth Moore's David Bible Study A Heart Like His. If you are keeping track, YES, this is the one I started back in the summer...
Better late than never, right?!
It was truly a wonderful study, and I was encouraged to see how David loved and relied on God, even though he wasn't perfect. It was also endearing to see how God loved and adored an imperfect David.
This weekend, I picked back up with Beth's Jesus the One and Only. I started this one some time last year, but decided to put it on hold until Advent. It does fit in perfectly with the Christmas Season and I am really enjoying it.

Reading and working through these studies does take a time commitment, and let's face it, I don't always have 30-45 minutes of peace and quiet where I can complete the lessons.
Recently, I have started some of the reading plans on the YouVersion Bible app on my phone. I've had a YouVersion account for a while and used it previously with our Church's One Year Bible Challenge, but I didn't realize all of the other topics they have in their collection. Currently, I am reading 14 days of Fresh Air, Sadness and Grief, and I am also trying to find another Advent plan that I like.
Of course, I am so Type A, I would rather have my real Bible to mark in as I go along, but it is convenient to have it on my phone, ready to read, at various times throughout the day. I have to admit I am really starting to like it!
I also downloaded the app on the Canadian's phone and embedded the daily verse on his home screen.
Take that, Satan!
So now, for someone whining about having no extra time, I have found more things to cram into our ridiculous schedule! Well, at least these activities have true meaning

I hope!

and as I learned from David, I don't have to be perfect at it

said the recovering perfectionist with all sincerity

. If I miss a day or get behind, God will love me anyway!