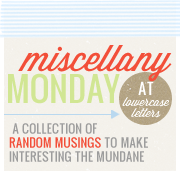 And it's another Miscellany Monday! I am posting late, but I made it! It has been a while...
1 - Healing
Blayd's head is almost completely healed, hooray! I am so happy that we did not staple it. The dermabond has worked perfectly. I am still coughing, 2 weeks after that flu thing. I am beginning to think it may never end. My boss and I discovered Hot Tamlaes suppress my cough much better than cough drops. Who knew?
2 - Conviction
A friend posted this quote on Facebook a few days ago. I have been so convicted by these words, even to the point of tears. I had already posted this earlier last week:
It received 22 likes and 13 comments. Perhaps I am not alone in this "game".
I am really working on balancing this busy life with our sanity. I certainly don't want B and b's inner voice to say, "Hurry up! Hurry up!" Some things in this life should be fun. I almost feel like since school has started, there is no fun in this house, because there is no time for it. Is this really how I want us to live? No. Is this how the enemy wants us to feel? Rushed, stressed, unhappy? Yes. I see your game, satan, and I am preparing to shut it down.
3 - Innocence
B (age 6) came running out into the backyard last week saying, "Mommy! You have to come see this commercial! Subway is giving away cars and trips to the beach!! We have to go there so we can get ours!" Oh how precious is sweet innocence. He was so excited, and I was thinking about how he wanted so badly to visit the beach more than once this summer. It broke my heart to explain to him that it didn't quite work that way. I have still entered my "codes" online to see if we might win, what the heck.
Big Brothers
4 - Golf
B had his monthly golf tournament this weekend. Sadly, his lack of practice due to school starting back and all that we have been through lately, with Nanny, and b's injury last Saturday, it wasn't his best score. He stayed right with it though, and played a whole round afterward with his best golf buddy, and another round on Sunday, too. My house is a wreck, and I needed to be home cleaning, but since I was mulling over #2 (above), I chose fun over laundry and mopping. His swing and score are already looking more like they did back in July. Which reminds me, I never posted about golf camp. Argghh. Need to get to that this week.
Little Brothers
These little guys aren't quite interested in golf yet, but they sure do like the golf cart!
When he wasn't playing golf this weekend, he was watching it. And writing lists of golfers. And designing a golf board game with colored tees. And playing Tiger Woods Golf on the Wii. And playing Golf2 on my phone. golf, golf, golf!
5 - Potentially Stealing & Gross
Was it cheap/stealing/wrong of me to snap a picture of this magazine cover? I would really like to make some of these cute Halloween cookies, but I don't have time to read a magazine. The owls are really cute. And the candy corns. I heard that Oreo was releasing a candy corn -filled cookie this fall. I am not sure how I feel about that yet. It seems gross, but I bet I could be fabulous. Have you tried them??
How's that for miscellaneous? Happy Monday!