The boys did well at the funeral on Tuesday.
When we arrived, Blayd said again,
"Oh
poor
Nanny! She
died
!" We did not allow them in until the casket was closed.
I just thought it might be too much.
I wished so badly she could have see them in their shirts and ties.
She would have beamed with joy at them - and at the flowers,
which
were absolutely gorgeous.
It was a beautiful mixture of flowers, specially selected by my Aunts,
with red and pink roses for the children and grandchildren,
and a single yellow rose for my Aunt Susan, who died six years ago.
We buried Nanny with her "chemo quilt". When she first got "the cancer" 6 years ago, we all signed the quilt, drew around our hands, and wrote notes of encouragement.
She used it every day at chemo and she loved it.
It was only fitting that it go with her.
We also put her nursing pin under her hands.
She was a nurse for 21 years and it was one of the greatest joys of her life.
At graveside, Blayd asked, "Is Nanny going to lay down under the flowers?"
I
told him she was, that her body was.
He asked me where she was.
He asked me where that was and I said, it was "way up above the clouds".
He asked, "When is she going to come back down from the clouds?"
I had no answer for that.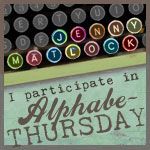 for more M posts, visit Mrs. Jenny here