Here are the most random of random thoughts on my mind this Monday!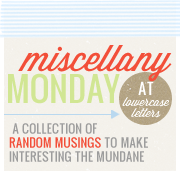 (1) Well, we are back at work this week after a LONG Christmas Break (made longer by teacher furlough days). Being that my grandmother is ill and my Mother is caring for her, I had no "babysitters" during the break. Working will almost be like a vacation - but I will miss my little devils.
Entire bottle of Waterproof SPF - Super FUN Clean up! :/
(2)
Notice the
remodeling/paint
in the background of the above picture of b? I am about to get on some "fixing up" of Casa de Mann. I am feeling chocolate, khaki, turquoise, lime green...but I am so
not
good at picking colors of paint. I always envision it differently than it turns out. I hope I do better this time!
(3) My grandmother had a couple of good days last week, but is back in a down turn. I am hoping maybe it is just the
Full Moon
. I love the moon, but it makes my anxiety act up. Do any of you have problems with the moon?
Taken on Saturday, not quite full.

(4) Today is

National Championship

today!! #14??? To be or not to be??
ROLL TIDE y'all! And to all our Auburn "friends" spouting "Geaux Tigers" let me say "Reauxll Tide"!
Hope you are having a fabulous Monday!