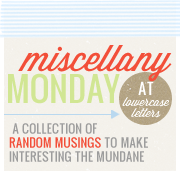 Help! I cannot think straight I have SO much to do right now. I hate feeling overwhelmed.
We had a wonderful BUSY weekend celebrating b's 4th birthday. I hope to have more time to post on that later this week.
This is the last week of soccer - thank goodness! Can you believe that I was even entertaining the idea of signing the boys up for Karate classes between now and Spring Soccer? WHY do I feel like I am slighting them if I don't have them involved in 9 million activities?
Did I mention I have TOO MUCH on my plate right now?
I am working 2 jobs, running a household, raising 2 small kids, taking an online certification course, leading Bible study, preparing for holidays coming up and I am about to go on an extended medical leave - do I have time for all of these extra things? Are we really able to enjoy anything when we cram in too much? Can I even be effective at the most important things? What are the most important things?
My judgment is clouded.
All I want to do is be a Mom. And do Mom things. But still be able to pay the bills.
My to-do list is ridiculous.