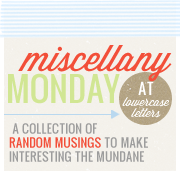 The boys spent the night at my Mom's on Saturday night which is a complete rarity! Normally B will cry to come home. He couldn't go to sleep until midnight, and did wake up crying but they made it the whole night this time. The Canadian was off watching a football game, so I was

home alone

. I resisted the urge to run screaming joyfully through the house like Macaulay Culkin.
Being alone was

weird

, but productive, as I was finally able to get my room deep cleaned (including under the bed) and I got caught up on some reading. The rest of the house is still a wreck. Just can't get caught up since being back at work.
Since the boys were away, I woke up at 5am (of course!). After being up for a while, I did manage to fall back asleep but then woke up too late and lazy to head to church, so the Canadian and I splurged with an impromptu breakfast date to IHOP.
We sat in the restaurant in peace and were even able to
read
the paper,
sip
coffee, and
chew
our food!
Then, we went to Lowe's. The morning was quite nice, but

weird,

in a "deja vu-ey" kind of way. This used to be our (almost) daily routine. Get up, go out to breakfast, then off to Lowe's to get something for a home improvement project were were working on.
That was back before we had 2 little ones squirming around. Also, back when we had money to blow on daily breakfasts out and home improvement projects.
You will not believe what happened later, when I started working on a little

spray painting project

. I am still too exhausted from the whole ordeal to tell the story. Look for it on Thursday...off to relax and enjoy a rest from my labor (or as the Canadians say, labour) on this wonderful Labor Day 2011!
Hope you are enjoying your holiday weekend!