The little one who rarely

looks and smiles at the camera

, decided to.
He told me this was his

"mad" face

. Well if it is, I'll take it!
I only wish that I would have had my real camera and not the blackberry.
The cowboys are at it again!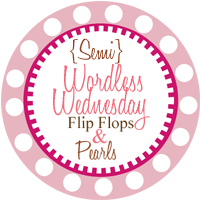 My friend Daphne over at Flip Flops & Pearls is celebrating her Blogoversary!
Congrats, Daph!
Head on over to her blog and you may win a prize!