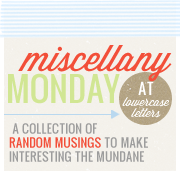 (1) Out and About
Last week, I had to ride on a school bus with my coworkers to tour a facility. I haven't been on the "cheese wagon" in years and thought it was exciting that this bus actually had air conditioning. When I was in school and rode the bus, we never had air - and may I remind you I grew up in the deep South! Well, I quickly wished we didn't have air on this bus, because I was dying to let the window down. The bus driver had some sort of air freshner in there and it was KILLING my allergies. I had a terrible headache after it was over!
Friday night and Saturday night, I had somewhere to go - without kids & husband! It was so strange being out on my own. Friday night I was out for a show (which I will have to write in a separate post) and Saturday night I attended a birthday party. I felt guilty being away from the kids, but it was nice to be out for a couple of hours with grown ups. It was so weird to be out after 9pm!
(2) Oh the agony of crying about school - it has begun again!
This weekend, B told me that he wanted to be his little brother so he could just stay home and play all day and not worry about school. He spent so much time this weekend fretting about all he wanted to do, and even kept saying, "I don't want to waste my time today." He has come to know how fleeting the weekend hours are and how little time there is for freedom and fun now that real school has begun. He tells me how much he misses preschool and I agonize inside with him, because I miss is for him, too. He is too young to feel this much stress!
(3) EKG!
Went to one of the emergency centers a couple of days ago because my chest was killing me. I couldn't tell if I had bronchitis coming on or a pulled muscle. Due to the fact that my blood pressure was so high and my pain was centralized in my chest, I had my first EKG. I was terrified! I thought they'd just give me and antibiotic or steroid and send me on my way, but they said to be safe they needed to check my heart to be sure. Getting older is a blessing and yet, so scary!
(4) Speaking of Doctors...
Can I just get well from everything and not have to visit any medical facilities for a while? Haven't I paid enough dues lately? I suppose I should be thankful that I have enjoyed good health for most of my life and shut up.
(5) Cute, but too late?
While waiting at the doctor's office I saw the cutest ideas in a new issue of
First
magazine.
I love them but - it just seems that it is time to embrace Fall - yes, there I said it! I am facing the fact that Summer 2011 must end soon. I will definitely save these ideas for next year, though!
(6) Wake up Call
I got a wake up call at 5:30am on Sunday, well sort of. I woke up and felt like I needed to watch a Beth Moore dvd that I had been putting off, and boy did I get a message - about myself! I need to write more about it this week. I love when I know for certain, that the creator has spoken directly to me. Amazing.
Hope your Monday is amazing, too!