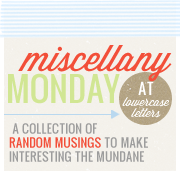 Miscellany Monday....on Tuesday!
Hope

you

had

a

great 4th! The Canadian's birthday is on the 4th as well...of course the 4th is not a holiday in Canada (their day is July 1) but he always thanks our country for putting on such a big party for him. I always try to remind him that his birthday celebration is NOT a 4 day weekend just because it happens to fall on our holiday.
For my Bloggy friends not in the South...this is what we call

BBQ

! I thought it was so hilarious when I first met the Canadian and realized that anything cooked on the grill up there is called

BBQ

! I told him, "A hotdog is NOT and will never be

BBQ

, at least not in the South!"

BBQ

here is pork -

Boston Butt

- and you can eat it chipped, chopped sliced, with or without slaw and pickles, and have your

BBQ

sauce hot, medium, mild, or FIRE! Now, the Canadian cooks these for all of his friends who come to visit and refers to himself as the "Grill God". These were actually cooked by my Dad, though...
...and these on his other grill. Please note, these are NOT BBQ - they are ribs!
This picture makes me laugh...out

loud

. Especially when I know he was saying, "I can't breathe Mommy!" They don't usually wear masks.
Busy day tomorrow...surgery day! Having the

gall bladder

out. Lot's to do to get ready to be down for a bit...prayers appreciated...see you soon!