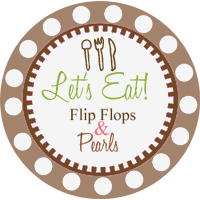 Bloggers link up here!
Today is my Mother's

birthday

, yall! In honor of her special day I am linking up with Daphne at Flip Flops & Pearls and featuring one of Mother's famed family recipes,

Jambalaya!

Recently, I made it for my Dad's birthday. My parents have been divorced for years, so the only time he gets Patti's famous jambalaya, is if I make it for him.
Here are the

ingredients

:
2 cans chopped tomatoes
2 cans chicken broth
1 package polska kielbasa - sliced
1 small onion - diced
2 bell peppers - diced
1/2 cup parsley
1 1/2 cup long grain rice
1 lb shrimp - raw
2 tbsp olive oil
1 tsp garlic powder
1/4 tsp red pepper
1/4 tsp thyme
2 tsp salt
1 tsp pepper
Here's

what you do

with it!
1) Dice, chop, and measure everything
2) Brown kielbasa in bottom of dutch oven in the olive oil. Add the onion and bell pepper and cook until soft over medium heat.
3) Add chopped tomatoes, chicken broth, parsley, rice, and spices. Simmer until rice is done and most of the liquid is absorbed (about 15 minutes).
4) Add shrimp and stir well. Pour mixture into baking dish and bake at 375 for about 30 minutes.
I split it up because half was going to Daddy's house and half was staying with us!
5) Enjoy! It is

delicious

!
unfortunately, I don't have the finished picture because it was during the baking process that B came upstairs with a mouth full of blood, having had his tooth knocked out...more on that here!
Happy Weekend to All and Happy Birthday to my wonderful Mother, Patti!