These days and weeks are flying by now as we reach closer and closer to the

end of Preschool

. Graduation is next week. I seriously can hardly stand it. This time is so precious in B's life, and I don't want it to end so soon. I'm trying to savor each moment.
We have

growth

! If you read this post about our garden ala Curious George, you won't be surprised that I have no idea what these sprouts are. I should have marked the rows as George did. *SIGH* But, regardless, B is thrilled we can see some action!
My favorite Mother's Day

gift

was this card. I heard B working on it - unprompted and all on his own - on Saturday night. He brought it to me and explained that he loves me as much as all of these hearts. *LOVE*
If you were able to endure my long post about
the loss of my second baby and my involvement in
the

Mama Project

here, you can now see the finished photo essay here! I think it turned out wonderfully and Jessica's sincerity and heart for this project were amazing. The project was also featured on the local news. Jessica has her commentary and the news video linked here. Seriously, go here and experience some amazing stories, all told in photographs.
Happy Monday!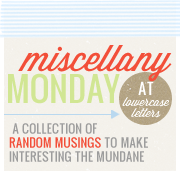 link up here