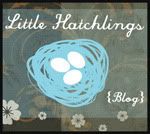 Here are the details of the Project...
I promise to send something handmade
to the first 3 people who leave a comment here.
To be eligible, you must also post this in your blog,
offering the same thing to 3 other people.
The rules are that it must be handmade by you and it must be sent to your 3 people "sometime" in 2011.
So...inspired by her generosity, I am going to offer the same thing to you! I don't know what I am going to make yet - but it will be something super cute!


So, post your comment, post in your blog, and you may be one of the lucky 3!
Add the link to your blog post here: