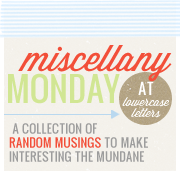 Here we are on another Miscellany Monday!
This weekend, it was all about

hockey

. On Friday night, B was the Youth Hockey Player of the Game. This is where the local hockey team features a player from the youth league and has them come out during the pre-game ceremonies.
I was worried that B would be afraid, and he did tell me that he was a little bit nervous. After he was dressed and ready, though, he was having a hard time waiting.
He was so cute looking up at our family in the stands and waving.

The Canadian was close at his side and gave him some tips on what to do. It was like a passing of the torch, since the Canadian used to play for this same team.
B did a great job skating out and Daddy was pretty proud of his big boy.
On Saturday afternoon, we had a unusual weekend hockey practice, and when I told B where we were going, he replied, "Are you kidding me?" He is definitely not used to this much hockey. We are lucky to get ice time for 1 practice a week. They are building an additional practice rink, though, which should be opening soon.
On Saturday night, it was Youth Hockey Night at the arena and all of the Cross Ice little league players were invited to come on the ice during pre-game with the local hockey team.
They also had a scrimmage game during the first intermission. The Canadian came out on the ice, too. since he is a Cross Ice coach.
I had to laugh later, when the regular hockey game resumed and a fight broke out...
A woman who was sitting next to me saw me taking pictures and went into a long discussion about hockey fights and how they aren't real, and so on. It was hilarious, considering who my husband is/was when he played professionally. She had no idea, of course who he was back in the day...
Hope your Monday is a blast!