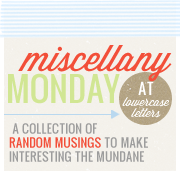 And here we are again with another Miscellany Monday, wasn't it just Monday the other day? These 4 day work weeks (plus the sick day I had last week) have me wayyy off track.
You know you hear some people say, "I don't know what I ever did before I had kid

s

." Well, let me assure you, I know exactly what I did. I did things like...
I would stay in bed until I decided to get up

on holidays and weekends

I went to the gym at my leisure and stayed for as long as I liked

I went for 4 mile walks, 5 times a week, down the local Riverwalk

I took long peaceful showers

I could easily run out to the store if I needed something

I would pick up and leave town on a whim

with the Canadian

I spent long days reading books in the sunshine

I went out to restaurants and enjoyed the meal and conversations

I used my toothbrush - without checking it first
I did all of those things - and it was great...but this life is

so much

better...
Now, I'm off to enjoy more of this

messy

,

loud

,

exhausting

,

chaotic

,

great

life, hope you enjoy your holiday, too!

** you can link up at Carissa's to share your Miscellany Monday here **