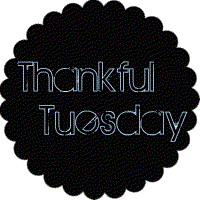 Today, I am so very thankful that my children are healthy. Lately, several of my friends here and in blogland have sick children, really sick children. My b had his 3 year checkup today and is doing great, B is coughing his head off tonight, again, but overall he is well. All in the world that is important to me tonight is the health and wellbeing of my children.
Today, I am thankful for my jobs. Lately, I have been whining and complaining about teacher furloughs and about having to work 2 jobs. Today I was reminded that some people can't even find 1 job. I am going to try to remember to not complain anymore.
And on a less serious, but most sincere note, today I am thankful knowing that tomorrow morning will start with a trip through the Starbucks drive-thru. PTL!
What are you thankful for?
Join in the Thankful Tuesday blog hop... just click the button to get the code, make your post and enter your link
here
!