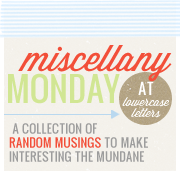 It really was no miracle. What happened was just this... The wind began to switch...
and then it snowed! Yes, snow in the the Deep South yesterday. Only small flakes, though, and no accumulation. Still exciting to watch while snuggled under fleece inside. Shame I have to go to work today, as it is still freezing, but...
Oh,

JOY

! Rapture! I've got a brain...
and I've also got only 4 more work days until Christmas Vacation!! It will be so much work being home with my 3 and 4 year old for 2 weeks, but I plan to en

JOY

every second of the chaos. I am so thankful I get to periodically live out my stay-at-home-mom fantasy.
Come along, Dorothy. You don't want any of *those* apples.
Since it is a happy week, I'm gonna try (again) to stay away from the negatives... negative thoughts, situations, conversations, foods, etc.
Only bad witches are ugly.
a
nd so I MUST remember to get my eyebrows waxed this week.
We're off to see the Wizard, the wonderful Wizard of Oz!
Have you noticed a theme this week? Explanation: The Wizard of Oz is playing at our local theatre (which also happens to be the State Theatre of Georgia)! So excited to go see the show week!
TO OZ? To OZ!
Now you go feed those hogs before they worry themselves into anemia...
and then
Follow the yellow brick road and link up at Carissa's!