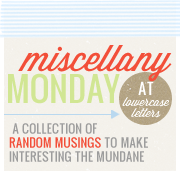 1 -
My 3 year old displayed
bad
uncooperative out of control
undesired behavior this weekend, and I am exhausted already in thinking about being off for Christmas Break. In addition, my 4 year old talked so much - to me, to himself, and others - I found myself saying, "B you are using so many words I am not sure which ones to focus on." They were both so wild, I found myself hiding under a quilt on the couch downstairs while their Dad attended to the
CRASHes
BOOMs &

POWs

!
As soon as I find it in this messy house, I am going to finally read Bringing Up Boys
2 - I hope to have my

Christmas Cards

out by the end of the week. I remember a time in my life when I had them mailed on November 30th. I may never be that organized again!
3 - I am still LOST on the new

Weight Watchers

Points Plus System. I did have an epiphany this week, when I found myself wondering what to eat and wandering around the kitchen trying to remember how I started WW the 1st time... Oh yeah - calculating EVERYthing until I learned what to eat. *SIGH*
4 - The Christmas set design at our Church is beautiful and fun. I love
MyChurch and just like the focus of our current series, I certainly need His Presence most for Christmas.
Let's make this a great week!
Share your thoughts and link up at Carissa's!