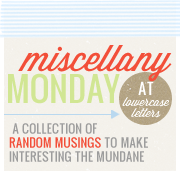 Click the button and link up at Carissa's!
I still have not made a Christmas List and verified what I have bought, and for whom, and I have no idea what I have bought hidden throughout my house or where. So not like me!

You cannot walk freely in any room of my house without having to step over something. Santa does not visit a dirty house.

I stayed up most of the night finishing a Shutterfly book for my Dad (because I finally found the SD card just last night - arrgghh and I couldn't sleep anyway - arrgghh) but who knows if it will arrive on time for Christmas.
I am not even sure which day is Christmas...let's see it's Monday the date is (check my watch) 20th...so that will make Christmas Eve on Friday and Christmas on Saturday...holy holly I have too much to do...gotta go!