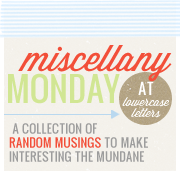 So, even though everyone was sick,
and we were totally unready, and a few other issues occurred which I won't dwell on, some things did go right this Christmas, and in fact seemed like

miracles

in a way and brought true
joy
.
My

Dad

came to Christmas dinner. My parents have been divorced for 17 years from each other. This past year, they both divorced from their current spouses. So this Christmas, my Dad came to my Mother's for Christmas day dinner and we had the

whole family together

in one spot with out having to run around. I thought it would be weird, and possibly throw off my chi (ha!), but it was so NICE.
Just a simple, pleasant time with family.
While we did try to focus on the true meaning of the holiday, my boys had a

blast

and received some special toys they had put on their wish list. I was thankful to be able to give them a nice Christmas in such an unkind economic time.
And then, it
snowed
. We live in Georgia. According to our local weather station, it has never snowed in our town on Christmas. Never. Ever. To quote them, "unprecedented".
It seemed like Mother Nature's way of trumping all store-bought gifts. Everyone on twitter/facebook was so excited and posting about the snow. It was truly like a

miracle

. It goes to show that what God creates, in all His glory, is so much more meaningful and special than anything that is "made in China".