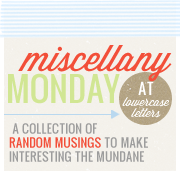 1.
SO TIRED
.
..
I was TOTALLY USELESS today, after a week off from Thanksgiving. The rainy, wet, cold weather just made it worse.
2.

SO CONFUSED

...The new Weight Watchers program launched today. I am excited for a change, but I have no idea what to eat yet!
3.

SO EXCITED

...To attend the first InPieces trunk show. Be sure to check out Kathryn's beautiful custom bags, scarves, and accessories, many of which feature adorable Amy Butler Fabric!!
4.

SO UNSURE

...Painted the living room GREEN this weekend...still not sure if I like it yet or not. Color seems like such a commitment!
Hope you all have a great week!